Hardware Bootcamp Kiev 2018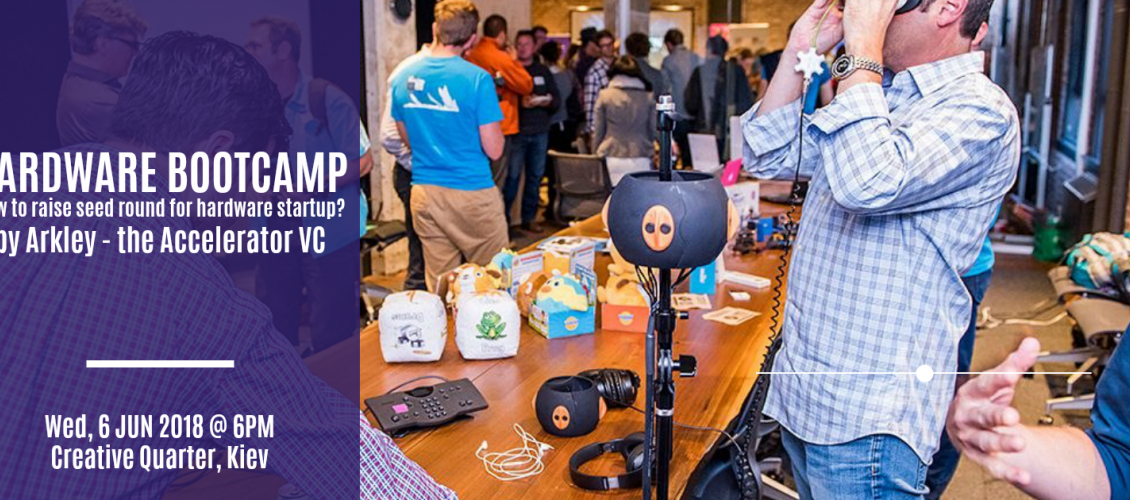 Over 100 people showed up for co-organized by Arkley - Hardware Bootcamp Kiev. The very first meetup, starting our CEE Chapter.
We selected Kiev as primarily destination, as our pipeline is full of Ukrainian startups, so it was the best way to verify our matches.
We couldn't make it happened without a strong support from our Ukrainian partner - Reactor.UA. Even though their inbox was clogged by our 100 threads conversation, they took up a challenge.
Our main goal was to give a floor to Founders - as both speakers and audience. Panel on the topic "How to raise seed round for hardware startup?", with Rustem Akishbekov - Co-Founder of  Arkley's portfolio company Robo Wunderkind, Vitaliy Goncharuk - Founder of Augmented Pixels, and Piotr Wąsowski - Founder of Arkley, caused a lot excitement in the room.
That was just a warm up before a real excitement during hardware startups' battle.
Check out the photos' series below to get a feeling how was it!
Engaged audience ensured us that Kiev is a place to be.
Rustem Akishbakov, Vitaly Goncharuk, and Piotr Wąsowski share their stories of raising funding from both startup and investor perspective.
Check their CrunchBase profiles to get know how much money their raised:
Robo Wunderkind, Augmented Pixels, Arkley - The Accelerator VC.
Nine hardware startups pitching their products like pros! Disrupting variety of sectors: agriculture, healthcare, telecommunication, and much more. We even had a chance to test one everlasting product! WOW!
Arkley's Team will keep an eye on you.
It wouldn't be meetup without beer & pizza, but we skip publishing photos from that part for the comfort of our guests.
Ukrainian startups - keep going, you're doing an incredible job!
Want to meet us during our next visit in Kiev? Contact us at hello@arkley.vc
Follow us on Facebook, LinkedIn, or Twitter.