Heartin, a smart t-shirt with ECG, will monitor peoples' health to prevent heart diseases.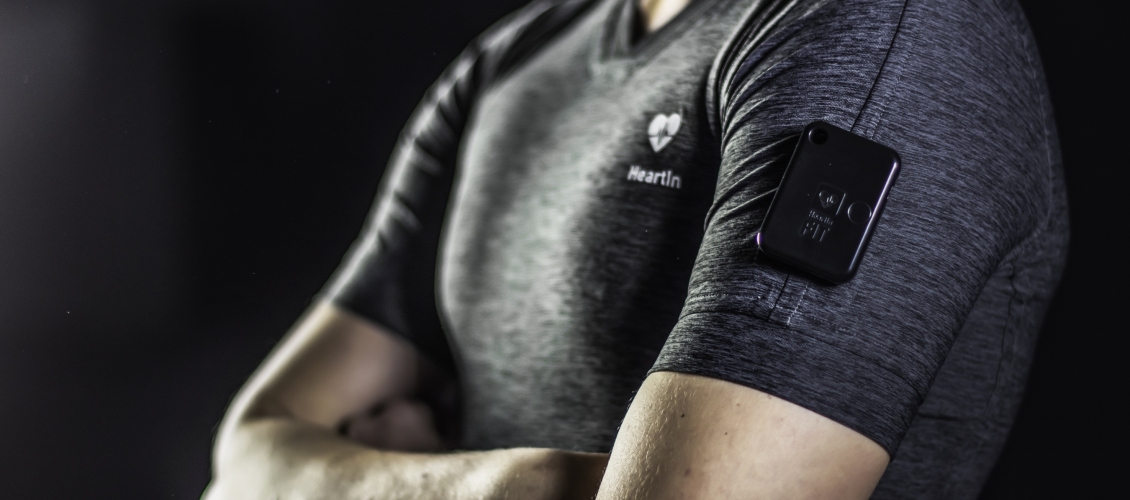 LET'S KEEP HEART TICKING
HeartIn created the comprehensive cardio-care solutions, the innovative t-shirts with ECG!
THE BACKGROUND
Nine years ago, Oleksii Vinogradov, currently the CEO at HeartIn, was looking for a chance to change the business field and discover the new opportunities in the market of telemedicine and remote health monitoring solutions. He started asking his friends about a good doctor they could advice, and after some months he found Dmytro Fedkov, currently the Chief Medical Officer at HeartIn, famous cardiologist, a great scientist and enthusiastic inventor. Together with his practical research and experience in the field of cardiology, Dmytro worked as a tutor in the biggest in Ukraine medical university called Bogomolets National Medical University and had enough project ideas that could have become a good starting point of a prosperous business.
THE PROBLEM
When we asked the HeartIn founder, Oleksii Vinogradov, How did you come up with the idea of t-tshirt with ECG, he replied that according to Dmytro, the market at that time (as well as now) had not enough reliable solutions for preventive heart monitoring. About 18 million deaths are recorded each year due to cardiovascular diseases, and 80% of them could have been prevented! The problem is that all the symptoms of heart abnormalities are hard to find, and they are normally detected at the later stage when the treatment is already not that effective. The problem itself lays in a very short period of time when the heart is being monitored in a clinic (only 8-10 minutes), and continuous regular monitoring will change the situation significantly.
It is also important to admit that Oleksii was driven not purely by monetary interest. He lost his mother at the age of 16, some years later he also lost his father. Both of his parents died of cardiovascular diseases. Even the time cannot be turned back, Oleksii believes that HeartIn can significantly decrease the death rate of heart diseases and save many lives all around the world.
THE SOLUTION
HeartIn created the comprehensive cardio-care solutions including ECG device based on big data analytic solutions. Deadly time delays can be minimized by use of the High Tech Monitoring Garment with HeartIn Portable ECG Device which can be attached by the patient or helpers at home and read remotely by the company's cardiologists. Thus, patients who need prompt hospitalization can be rushed to the nearest capable facility, and those who need less intense care can be monitoring perpetually. HeartIn's cardio-care solution aims to prevent 80% of cardiac death by providing its real-time and continuous monitoring and early-alarm system. So far there is no good solution on the market which combines hospital-grade heart monitoring with professional workout features.
THE PRODUCTS
Basically, HeartIn has created products which target medical wereables market.  T-shirts have a very innovative portable electrocardiograph system which control and diagnosis patients health. The fitness smart t-shirt with ECG, is created especially for for sportsman. It's the smallest ECG available on this market. The product supposed to be the most insightful athletic performance technology accessible for amateur athletes. The usage of the product is very easy as well. Customer just need to plug the HeartIn portable ECG into a smart phone or PC and the team of cardiologists will be available 24 hours and read and give an advice, everything without waiting for appointments. Such collaboration allows you to obtain an in-home electrocardiogram even without seeing the doctor. It helps to determine quicker the next stage of treatment.
THE PLANS
Their vision is to change the industry by preventing heart attacks and deaths due to cardiovascular diseases as well as to accelerate cardiology telemedicine and remote monitoring the cardiac solutions by creating easy in use system for everyone.
In the same time, the company is going to finalize development of the new generation of the product, 12-lead ECG t-shirt, which will be able to determine more types of heart diseases and could become a much more better alternative for clinics and hospitals.
"A lot of things have been done already, but the company is still working on many improvements and adjustments. As for future targets, HeartIn is willing to make clinical trials not only to prove the validity of the product but to find weak points of existing technology and implement all necessary changes" said the Europe&CIS Regional Manager, Oleksiy Levenko.
HeartIn is the sixth startup which joined acceleration program Arkley Launchpad. Startup founders who are also looking for operational and financial support can contact us at hello@arkley.vc or apply here.
Article based on the information found on the HeartIn website:
https://www.heartin.net/index.html