Join us at Hardware Bootcamp Kiev! AIN.UA interviewed Piotr Wasowski .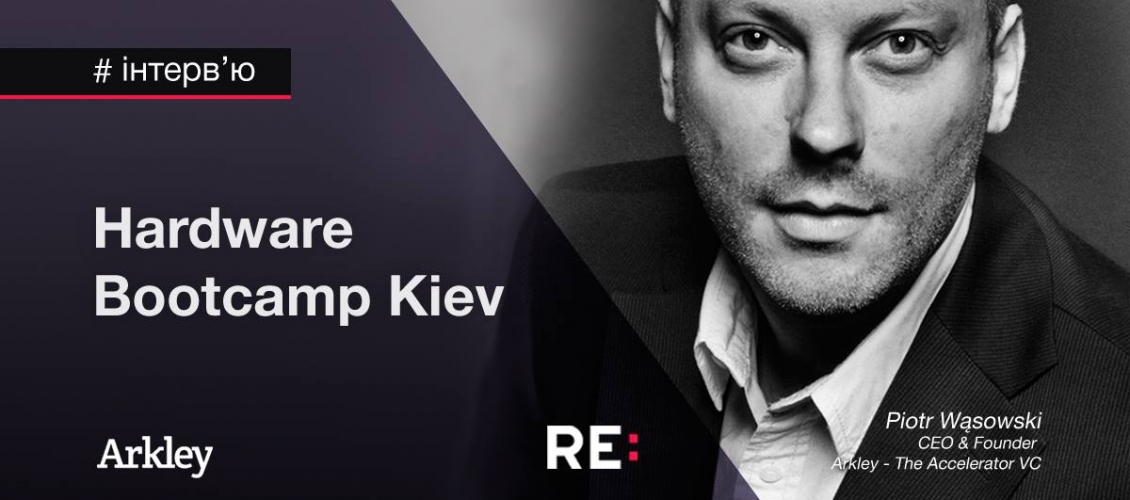 One week left to Hardware Bootcamp Kiev! Piotr Wąsowski, CEO & Founder of Arkley, invites all startups to come to the event and find out more about Arkley's work!
Article is based on the interview with Piotr Wąsowski by AIN.UA - original article here.
Tell us about Arkley's areas of work:
Piotr Wąsowski: Arkley was always focusing on the hardware projects, and this is our biggest advantage. Today, after few years of working with hardware startups, we can offer startups not only an investment but also a relevant experience and network, which is invaluable when doing hardware.
Our portfolio includes:
ZMorph - creating multitool printer, which thanks to interchangeable toolheads allows not only 3D printing but also CNC milling, laser cutting and engraving, what makes it the most versatile tool on the market,
BIVROST - creating a complete set of tools enabling production and experience of 360 videos and cinematic VR, its tools include professional camera rigs, post-production tool and 360 players,
Lovely - creating an intimate wearable for couples, which learns from their current behaviours and suggests new ideas to enhance their sex life,
Robo Wunderkind - creating a toy, changing the way kids learn about technology, it allows them to build and program their own robot,
Tespack - creating the high quality solar panels and batteries and implementing them in different wearables as backpacks and clothes
All of our portfolio companies raised follow-on rounds last year. This success ensured me that focusing on the hardware projects should remain our investment strategy for the future.
In the meantime, to strengthen our position at hardware ecosystem, we launched acceleration program - Arkley Launchpad, in which we are working with startups individually, by sharing our experience and network. This is also for us the best way to find startups for potential investment, from our upcoming fund.
How to submit the Arkley program, what are the requirements for the teams?
You can submit your startups to Arkley Launchpad: by filling application form on our website, contacting us via e-mail hello@arkley.vc, or contacting any of our team members, as we are all fully involved in working with startups.
We are interested in startups with the strong team, and a working prototype. Nevertheless, we are reviewing all submitted applications, so some exceptions may occur.
How do you work with teams?
No "deadlines" and "cohorts" -  program Arkley Launchpad is fully individual. It means that startup can apply and join the program at any time, and when accepted Arkley's team will work with each startup  individually.
During the program we want to share Arkley's experience and network. Depends on the startup stage our help can include: product development (by designing and prototyping agencies network), manufacturing (by Chinese manufacturers network), distribution and sales (by EU and US network) and much more. We are doing hardware, so we know all unavoidable steps.
You prefer hardware solutions. Why? What is the potential of the hardware startups' market?
Many times, we are asked (also by other investors) why we are focusing on hardware. The answer is simply, we believe in it. The market is full of the fickle software projects, which makes it overcrowded. Wherease hardware projects are much more specific, constant, hard to delude.  Next, hardware is a tangible and visible, not something virtual. Basically, it's much more interesting, because you can see and touch real object.  Finally, we believe that we are in "off-the-screen" era. People will go away from computers' and smartphones' screens. Nowadays, looking at screens is addiction of XXI century, and makes us more prone to illnesses and stress, which in consequence decreases our quality of life. We want to focus on projects which impact our life in a positive way by using new technology. We believe using new technologies can improve our well being and happiness.
You support early stage startups a lot. How do you determine which ideas would be successful? Is it an intuition or an algorithm?
For us the most important factor of success is the Team. There is no need to look far to find the reason why "Team" is the main recruitment and selection criterion for Arkley Launchpad. Three of Arkley's portfolio companies founders (Jakub Konik - Lovely, Yesika Seppa & Caritta Robles - Tespack) were included in this year's Forbes 30 under 30 list. It proves that venture capital is a human capital.
How long have you been working with Ukrainian startups? What are the strengths of teams from Ukraine?
We are working with two Ukrainian startups in our acceleration program - Arkley Launchpad Senstone and Delfast. Both Nazar Fedorchuk - Founder of Senstone, and Daniel Tonkopiy - Founder of Delfast, are in my opinion great founders.
We are also in talks with many Ukrainian startups, what we find interesting in it is their global approach, as we want to build the global companies its a great fit. In fact duing our collaboration with both Senstone and Delfast we haven't experience any problems with contact or misunderstanding. We are working like partners, and treat each other like partners.
What other countries in Eastern Europe are you interested in?
In general whole CEE region is in our focus, without any specific countries. As said we are looking for best teams, so origin of the team is the secondary factor.
Tell us more about Hardware Bootcamp. Participants from Ukraine, Belarus, Russia are expected to gather in Kiev. What do you expect from teams which will take part in it?
In fact, I'm quite optimistic about the teams we could meet at Hardware Bootcamp in Kiev. As our team already visited Ukraine few times and during that visits we met many good teams, with whom we still have contact. Now, I decided to organise Hardware Bootcamp in Kiev to give startups teams opportunity to meet us, our team. So they can ask us questions, as its not only the investor who has the requirements to startup, but also startups who has the requirements to the investor. At the end it's crucial to know each other, as the decision about acceleration and investment is mutual.
What areas are still waiting for their innovators?
We want to have a diversified portfolio, so we are still lacking projects from such areas like: MedTech, AgroTech etc., so it's still a great angle to play.